♕ Today's Promise: "You don't have enough faith," Jesus told them. "I tell you the truth, if you had faith even as small as a mustard seed, you could say to this mountain, 'Move from here to there,' and it would move. Nothing would be impossible." Matthew 17:20
~ Yvonne in South Africa
The Lord is so wonderful in how He answers prayers. A few years ago I gave my mother-in-law the English "Finding the Abundant Life" book, because Afrikaans was not yet in print.
She's not good at technology so she does not read on her phone, so it must be a book. However, when I asked her about it a few weeks later, she told me that she does not really read English, so she did not think she was going to read the book.
Just a little background, my dad (father-in-law) passed away a few years ago and at the beginning of the year her youngest son passed away as well. All these things are very difficult for my mother and she has all theses feelings she does not know how to cope with. The doctors have no advice, the psychologists have no advice and each of us knows that if there is no advice anymore, then we can just turn to Him. For some reason, my mother's heart is not ready for the truth yet. So many people have sown into her life, but it's like nothing wants to grow and I can understand only a little of it, because I was so hopelessly sad after my own mother passed away. No amount of consoling from anyone helped. In fact on the contrary just the words: "she's in a better place" wanted to make me scream!
So a few weeks ago I got the Afrikaans "Finding the Abundant Life" that is now available in paperback!!! Praise the Lord and He led me to give the first copy to my mother with the words: "Mother, this is the first copy, there may be some mistakes, so when mother reads the book, please just mark them for me." I must also confess to you that when I gave her the book, I asked a few friends to pray together, but I did not have much hope.
The previous Sunday I went to visit my mother as I usually do on a Sunday and her first words to me were: "We got 2 mistakes in the first chapter." At first, I could not understand what she meant, then I realized it was the book! She read the first chapter!!!
Of course, there is more and the Lord always shows us how small our faith is. Not only did she read the first chapter, but another aunt read it with her and said it is fantastic!!! However, the aunt is English and she asked if we did not have the English book. Well, of course my mother still has the English book and then she asks if she can give it to the aunt.
Is not the Lord so wonderful? Can you see the future with me? Can you see my mother starting a group at her retirement home for so many widows who need Him? I know I'm dreaming big now, but He has already shown me how small my faith is, so I am going to start trusting Him for big things!
Finally the seventh time, his servant told him, "I saw a little cloud about the size of a man's hand rising from the sea." Then Elijah shouted, "Hurry to Ahab and tell him, 'Climb into your chariot and go back home. If you don't hurry, the rain will stop you!'" 1 Kings 18:44
"You don't have enough faith," Jesus told them. "I tell you the truth, if you had faith even as small as a mustard seed, you could say to this mountain, 'Move from here to there,' and it would move. Nothing would be impossible." Matthew 17:20
Our Afrikaans' Ministry Pastor and RMI's Ministry Director
Follow #Yvonne's Praise
And Yvonne is a tithing​ partner. Learn more.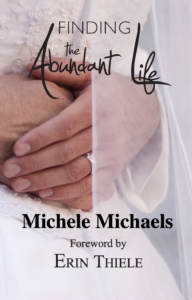 Follow our #FAL Category to read the PRAISE from these life-changing books.
Finding The Abundant Life is available as an e-book in our bookstore!