♕ Today's Promise: "As the deer pants for the water brooks, so my soul pants for You, Lord." Psalm 42:1-3
☊ PR Podcast Erica
Hi dear friends!
I want to praise my Beloved for all the benefits that He has done to me, for loving me with His great and huge love.
In my last PR I said I was expecting what He had planned for me for my Christmas time. So I'm coming here to tell you everything my Love has done for me ... at this moment (Christmas Eve) I'm at the airport waiting for my flight to Brazil, yes He planned my holidays to Brazil and at the invitation of my MT. So I started SG and asked if it really was His plans ... and asked for a sign in a silent prayer. And the answer came 1 hour after prayer exactly as I asked for the sign ... He is wonderful!! So after His answer I started looking for my ticket.
It was not easy because I had no money, I really needed a miracle, but He as always in His infinite mercy acted for me, because He is owner of gold and silver and I said to Him: "My Lord I know that there are purposes on this trip so I wait on You for everything "… then the mountains began to move…After that I searched many sites for my tickets but it always frustrated me, until I remembered what was written in the book Moving Mountains, that often the Lord makes us climb the mountains, so I knew that He was leading me to climb that mountain, but I waited for His lead, because besides climbing the mountain would be in the last moments that everything would be revealed.
And so it was ... my lovely and dear friend who lives in Brazil (who had her marriage restored by God through the RMI in 30 days), helped me with the tickets. I sometimes thought that I had heard His answer wrong, but He very kindly reminded me that He was in control and just needed to wait ... the tickets came 2 weeks before the trip ... my EH called me every day making plans, and asked me what we would do and asking for my opinion, I was simply able to apply everything I learned and left so that he could take the lead in everything, it was not easy but I could quiet down in my LOVE and let EH to plan everything.
Dear brides, I encourage you to always let your Beloved and Lord lead your life in everything ... do not plan but let Him do everything for you, as we will avoid many unpleasant and frustrating things. Remember I encouraged you not to call or make plans? See the reward when I just waited on Him ... I've never imagined to spend the holidays in Brazil and even more with my EH, but He has a reward for those who wait on Him ... wait sweet bride! 🙂
I also want to remind you dear friend that tests also come and a big test of my faith in Him came ... as my EH has lived in another country near here, he left there with a stopover in Milan, and arriving on the plane change he missed the plane, his bag was lost, and he spent more than 24 hours at the airport trying to sort it out, unfortunately he lost the tickets (round trip) and needed to buy others ... I prayed because I really started to think that I had heard wrong His answer ... the enemy came with many arrows, but my journey friends could help me in prayer so that I could calm down, I confess it was not easy…after 24h my EH called and said he had bought other tickets and we would meet where he had planned. I then praised the Lord and apologized for doubting myself that I had heard His promises wrong.
I'm here waiting for my flight, working on my new laptop, listening to praises, drinking my favourite coffee and happy because my Beloved has led my life, me that was so self-reliant and so bossy.
My Beloved, thank You for everyday remind me that You love me and that the abundant life You died to give me I can live it now ... I love You my love!
Now everything is in His hands! I keep waiting on Him! My Love, my HH, my Everything!
The silver is mine and the gold is mine,' declares the LORD Almighty. 'The glory of this present house will be greater than the glory of the former house,' says the LORD Almighty. 'And in this place I will grant peace,' declares the LORD Almighty." (Haggai 2:8-9) NIV
That was the word He gave me after prayer ... once again His sign...\o/
"On that day,' declares the LORD Almighty, 'I will take you…declares the LORD, 'and I will make you like my signet ring, for I have chosen you,' declares the LORD Almighty"' Haggai 2:23 NIV
"Taste and see that the LORD is good; blessed is the one who takes refuge in him." Psalms 34:8 NIV
"Yet the LORD longs to be gracious to you; therefore he will rise up to show you compassion. For the LORD is a God of justice. Blessed are all who wait for him!" Isaiah 30:18 NIV
I encourage you to always wait on the Lord.
~ Erica in Ireland
Follow #Erica
I'm a tithing​ partner. Learn more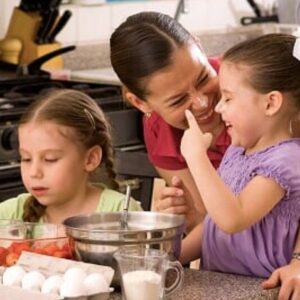 "…Do not forsake your mother's teaching;
Indeed, they are a graceful wreath to your head."
—Proverbs 1:8