♕ Today's Promise: "I will bless the Lord at all times; His praise shall continually be in my mouth. My soul will make its boast in the Lord; The humble will hear it and rejoice. O magnify the Lord with me, And let us exalt His name together." Psalm 34:1-3
Hello Brides,
This is part two of my PR (Praise Report) sharing a little bit more of my time in England with Adele and Erica. I will continue to Praise Him for all He did for us. He is so good, wonderful, amazing!!!
After the amazing Saturday, the dinner at a Chinese restaurant and the great night of sleep, it was time to enjoy our Sunday with Him. If you are a member of our Restoration Fellowship you will see that every Sunday is a unique and special day by His side 😀
We woke up and went for breakfast, well it was really early and most of the coffee places were still closed, the light rain was still there and the cold too, but the air was fresh and I believe that the UK is so green, so it was great to enjoy the colors of the trees and the old buildings while walking to the nearest coffee place, when we found it we sat and ordered our breakfast <3
We noticed that the streets were closed and later we understood that it was for the marathon of Oxford! I love marathons and was so great to be able to watch it just for a few minutes since it was on the way to the Museum of Natural History that was our next stop of the day.
If you have read any of the LALTour PRs, you will see that we loved museums, castles, libraries, and we loved going to all these places, and this time could not be different. I had never seen a dinosaur fossil in my whole life, thank you Lord for the amazing gift, we were amazed by all the diversities of dinosaurs, animals from different parts of the world, by the way, we even found a fossil that was really similar to Nessie, from Loch Ness, that I also had an opportunity to go with Tara 😉 Isn't that very interesting?!! The Lord is so creative, I can just marvel with all the things He made!!
We spend a long time there looking and also talking more about Him, and His word, what a great time!! Ah, we also found historical objects from around the world and from each other's countries. After the time spent at the museum, we went to the city center and browsed through some cute stores 🙂 Then, we returned to Ericas' home and she prepared a very delicious Brazilian food!!!
We spent the rest of the time talking and fellowshipping, it was also our last day together, and we were so grateful for the opportunity He gave us, I am always in AWE of how He orchestrates things and how He brings people together, how He changes hearts and lives, is like watching daily miracles of His mercy, faithfulness, and love.
Ladies, I want to close this Praise Report of my time in London, by encouraging you to trust Him taking your worries and your dreams and desires to Him, even if you think that they are too big or too small, He does not see this way. He longs to hear from you, to spend time with you, to guide you and to bless you. Let go of what keeps you away from Him, and let Him be the first one in your life!
~ Sara in Turkey
Follow Sara
I'm a tithing​ partner. Learn more​​.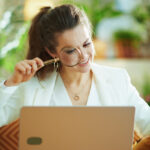 ☊ PR Podcast Lota
Today I was spending time with my HH and as I was reading the PR in the Encourager I saw a widget [picture at the bottom of the main Encourager page] I had never opened before. When I opened it, called Ministry Sitemap, my heart jumped for joy!! My HH brought me back to the very beginning of my RJ when all I had was the book RYM. My friend, that became my ePartner, had the Be Encouraged videos in VHS and we would get together with another woman and watch them together. That was pretty much it, no website or Encourager with Praise reports to read, but oh how just those materials changed my life. Now to see the extensive materials the website has to offer brings me so much happiness.
Ladies, the gratitude doesn't end there. I went to the Spanish site and saw the same widget and as I opened it, WOW, it was just as long!!! Oh, how my HH has blessed us. I remember it was just Yvonne and me with my 3-cord being our HH, working in the Spanish ministry and now we have a team of amazing brides—all in love with HIM!!
As the new year approaches and He brings to mind not only my restoration journey but that of the ministry, I at times just didn't know how He would make it all work. There have been so many changes and yet so much growth. Working with women who have a heart for HIM is priceless. The road traveled is always worth it, and exceeds all of my expectations. He blesses us more than we can even imagine and to think that SO many other languages are joining and also producing so many resources for so many hurting women.
I think my favorite change has been the zoom meetings and how we as a ministry have been able to fellowship and encourage each other. This year has definitely been one to remember and through all the hardships and trying times, our HH has brought so much good.  A Wise Woman Fellowship • Abundant Life Restoration Fellowship • Encouraging Women RESTORED Fellowship
Today I share a heart of gratitude, of reflection and surrender as He says, "For the vision is yet for an appointed time, but at the end it shall speak, and not lie: though it tarry, wait for it; because it will surely come, it will not tarry." Habakkuk 2:3 This ministry continues to nourish my walk and intimacy with my HH and I choose to stand with Him as He holds my hand and continues to lead the way.
~ Lota in Florida