This Praise Report has been on my heart for a while now, but His timing was perfect as always!
This was my first year as a Worker@Home and I have never felt so blessed as I did this year. To be able to see what my dearest Heavenly Husband can do. This year I have experienced His peace as I have never done before.
Philippians 4:7(NIV) And the peace of God, which transcends all understanding, will guard your hearts and your minds in Christ Jesus.
And these last few weeks, He has shown me something that I had totally forgotten. As a child, I visited a church that specializes in missionary work. And when the missionaries would return from a place they would come and share with all of us. I remember one time when a group arrived telling us of some countries they were in that has never even heard of the Lord and how they embraced His word — I have always wondered how someone that has never heard of Him would embrace Him so easily while we grew up knowing that there is a Lord, but He sort of moved to the background. Now, I am sure it was because they all knew they were missing something and when the missionaries came, that hole was filled with His Spirit:):):)
Matthew 24:14 (KJV) "And this gospel of the kingdom shall be preached in all the world for a witness unto all nations; and then shall the end come.'
I could not have been older than maybe 12 years old but I remembered thinking how "cool" this would be. Not knowing that He would make a similar path for me. Working with so many women across the world and this from the comfort of my own home, which He has given me.
These last two weeks my little girl had a concert at school, it was almost 2 weeks long and they needed parents to help with the supervision of the children. So my daughter, the girl that she is, volunteered her mother:) The Lord showed me another benefit of working@home.
There was also this time during the morning where I had to go and help out and had to stay alone in the class with the children while the teachers were busy with a "dry-run" of the concert. Wow, 28, 8-year-olds. They were very noisy, but I was thankful to see that my little girl was one of the children I never had to ask to be quiet or stop walking around. I never even heard a peep from her the whole day. This is all thanks to my dear Heavenly Husband showing me how good a Father He was to my children. It is ALL Him and I can take none of the credit!
The nights that we had to supervise I had the privilege of meeting some of the mothers. One of them had such a lovely testimony: She had left her job to study theology to become a minister. For her to do this, their finances for the household was cut in half, but the Lord is providing for them. Can you imagine what a step that must have been for her to follow Him in this way? So, asking her what she did before that you will not believe it. She started out as a lawyer dealing with divorce and with family law. Before that she did taxes and then the Lord called her to hear Him. And when I found out who her son was and it was one of the boys in class that were never out of his place.
Proverbs 22:6 (TPT) "Dedicate your children to God and point them in the way that they should go, and the values they've learned from you will be with them for life."
That night I got a glance of how He weaves everything together. I would love to share this poem with you:
This poem is of unknown origin but was popularized by Corrie Ten Boom:
My Life is but a weaving
between my Lord and me;
I cannot choose the colors
He worketh steadily.
Oft times He weaveth sorrow
And I, in foolish pride,
Forget He sees the upper,
And I the under side.
Not til the loom is silent
And the shuttles cease to fly,
Shall God unroll the canvas
And explain the reason why.
The dark threads are as needful
In the Weaver's skillful hand,
As the threads of gold and silver
In the pattern He has planned.
He knows, He loves, He cares,
Nothing this truth can dim.
He gives His very best to those
Who leave the choice with Him.
RMI African Director
Managing Operations Director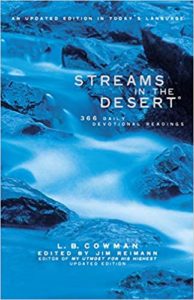 Has your HH led you to discover and enjoy our DEVOTIONALS in their new location? Now it's easy to read your morning devotionals from your phone and also allowing women who don't speak English to translate it into their own language.
After reading this morning Encourager blog, simply scroll down to
Morning Devotional
Be sure to SHOW and SHARE this with your coworkers or friends who would benefit from the same encouragement.