I know I have shared before, but our HH keeps expanding. I say He because only He can do the impossible. I was able to bring 2 boxes to Costa Rica and now they are ready for distribution. Veronica from RBG and I were just discussing on how to send to Peru next, knowing that the cost for shipping were extremely high. We rested in Him and prayed for His provision. The very next day, I get a call from a member who attended the Nicaragua Retreat. She calls and tells me she will be traveling to Peru and is willing to take 2 boxes of books as long as I take care of the luggage fees, which is a fraction of what it would cost shipping. I shared that it was too much of short notice since it takes 2-3 weeks to receive the books, but I heard my Love say do the possible and I will do the impossible. I contacted RMI to see if there was anything and YES, the books were expedited and scheduled to come 2 days before her flight!. We are so excited to bless our women in Peru.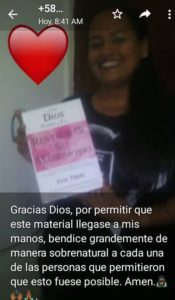 When traveling to Costa Rica, I was able to meet Miroslaba and bless her with books. Here is a praise report about how our HH has transformed her:
Blessed be God because in his infinite love and mercy he has had mercy on me and has shown me how terribly ugly my heart was. A heart full of pride, pride, and vanity, which hurt all those around me that gave me their love. A heart that did not love Him and did not give Him the rightful place in my life.
When my life fell to pieces, He lifted me up and healed my wounds. He with his love rescued me from the deep abyss of sadness and despair. As my Good Shepherd left his 99 sheep and went for me, He returned me to his fold, He healed my wounds.
My Potter broke me and now He is giving me shape because He is going to turn me into a beautiful vessel to contain the new wine that He will give me.
I have experienced the love that Corinthians 13: 4-7 states: "Love is patient, it is kind, love is not envious, boastful, or proud." He does not behave rudely, he is not selfish, he does not get angry easily, he does not keep resentment. Love does not delight in evil, but rejoices with truth. Everything apologizes, believes everything, expects everything, endures everything."
Love in its highest expression has touched my life and is transforming me, the love of God that brings back to life what is dead.
I praise, bless and glorify the Name above every name. To Him be the honor, the power and the glory forever and ever. Amen.
Dear Partners, I am so grateful how daily I receive praise reports on how women's lives are changed by our courses that are offered free because of your financial support. Many of the Spanish women have such limited resources and when I share that there is no fee to read the lessons based on RMI books, the testimonies and videos, they are in awe. Your support is also helping bring books to the hands of those who do not have internet. I get countless messages from women who only dreamed of holding it in their hand, a prayer that was for them a miracle to come to pass. He is so amazing.
SOW and REAP a Harvest
In previous blogs, we shared how we began offering students who just completed a free course, the opportunity to Thank the Ministry Team and our partners by helping to send RYM books to poor Latin Countries.
Even if you haven't just completed a course, you can also GIVE.
My Love, you amaze me each day with Your faithfulness. I thank you for all the blessing you are pouring on each woman as they come to this ministry. Those with no computers or internet to receive the books and ignite the flame of hope in their lives. May each one feel and grow closer to you and your infinite love.
I want to share a praise Report of a member who has been so faithful in doing her lessons and shares about how the Lord helped her overcome a hurdle on a very important principle. Here is another praise report:
"Bills are Due—Not Missed Any"
My beloved Lord to you all the glory, I wanted to give testimony about tithing, thanks to my beloved Lord, He has given me the strength and the will to let go of this fear of tithing, blessed the Lord who provides for us with everything, until now Despite the economic situation and having many obligations, we have not missed any, not even one day have we stopped eating and fulfilling our commitments! For those who give excuses, thanks to the Lord I no longer do, the bills are due and how could they tithe? I will tell you the Lord provides everything, money is not important, what is important is the Lord, it is the trust we place in Him, is to have faith that His word is faithful, then if we trust to give Him the first of our fruits, then the Lord comes and blesses us, praise and bless the almighty who owns everything on earth and in heaven, thank you my beloved !! ~ Katy
Do you feel unworthy or incapable of being used by God to minister? Trust me He can use you by just letting Him know you are willing. 2 Timothy 2:20-22. Ladies, today I want you to know that HE has something special for each of you. Here in RMI we are blessed to be filled with spiritual food that builds us. Most importantly we come to know Him and His love. I encourage you to ask Him to allow you to share this meal, His love with those He places around you. None of us are perfect, but you can give a glimpse of hope to those who may not know HIM AND HIS LOVE. Remember we ALL need Him. :))
*Important Update*
Our annual Women's Retreat in Nicaragua has been canceled. Please take a moment to read this heartbreaking announcement.
*Exciting PRAISE and MORE Encouragement*
Yvonne shared in one of our RMI Board of Directors meeting that she was reading the other 2 Encourager blogs each morning, using a translator on her phone. This led to us discovering a way to add a translator to all 3 of our Encourager blogs so any language can now read and be encouraged each morning.
Set up 2 more Encourager apps with these languages:
Spanish El Animator
Portuguese Encorajamento Diário