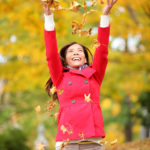 Penelope, how did your restoration journey actually begin?
Everything happened one day when I realized that my husband and I were getting more and more distant, fighting a lot, and we went for days and days without talking. I began to wonder what was wrong. At times, I told myself it's because we'd been married for almost twenty years, so this was just normal. But it bothered me a lot, so I tried to get things back to the way they had been, the way I thought they should be, but he showed no interest in anything I tried. I was so far from realizing that my contentious spirit had undermined my marriage and led my husband to no longer love me, to wish we'd never met, to never want to be with me again and to seek in other women what I did not give him.
How did God change your situation, Penelope, as you sought Him wholeheartedly?
When my husband finally opened up and told me his feelings, that he no longer loved me to the point that he did not even care about losing his ministry in our church, my world fell apart, because (despite being Contentious and emotionally immature) I always loved him very much. I began to read books about the power of prayer and to put into practice the teachings I learned about seeking the Lord with all my heart. I also began to devour Christian books on marriage, and, thank God, everything I read only helped me to see who I was. My husband was using the pretext of working in another state to stay at his parents' house, and he came home maybe once a month. So while he was gone, I remained in prayer and fasting, to approach my Lord.
In an effort to save my marriage, and due to the many books I'd been reading on marriage from whom (I thought) was Christians who knew God's Word, I persuaded my husband to talk to a pastor and get counseling. Each of us went alone to talk to the pastor, and then we went together. What a disaster this was, only making our marriage far worse than it had been. My husband went for one reason alone, which was to make sure the pastor knew how horrible I was, and how impossible our marriage was, and also so he could tell everyone he had not given up without trying.
The conversation with this pastor was a turning point for me, for it was the first time I became aware of the Contentious Woman I was and the need to change so God could restore my marriage. So, in the end, God used it for good. Because from then on, I intensified my fasts so that I lost about thirty pounds, and due to not eating, I became what I should have been: a woman with a Gentle and Quiet Spirit. My husband noticed my change, but he was still determined to leave home, as he told me later.
It was after this that I got on the Internet, and He led me to find the RMI website and the book How God Can and Will Restore Your Marriage. I devoured the book, literally. The feeling I got instantly (and still have today) is that Erin actually knows me and wrote the book, every ounce of encouragement, and the courses especially for me! She especially wrote the chapters "Contentious Woman," "Won Without a Word" and "Gentle and Quiet Spirit" for me!
What happened next was nothing short of miraculous, because after reading and reading the books, journaling through the lessons, going through them five to ten times, my husband began to notice my change but tried to ignore it. As soon as that happened, God began to trouble him and give him revelations in his dreams. Unfortunately, I was anxious and wanted him to change, so I pushed him. I realized another of my faults, which was that my greatest struggle and my greatest change needed to be let God be God, to wait patiently for Him.
What principles, from God's Word (or through our resources), Penelope, did the Lord teach you during this trial?
From reading the book How God Can and Will Restore Your Marriage and doing courses (I am currently going through your course to minister. I want to learn how to help other women avoid crisis by studying A Wise Woman.), I have learned to begin my day reading daily encouragement, next Psalms and Proverbs, and then both devotionals, before doing a lesson. Continuous praise has been an essential part of my recovery. No matter what, good or bad, I praise Him for it, to rid myself once and for all of my contentiousness.
May I also say my journey started in order to get my husband to return back home and give his heart again to me? Yet, I ended up learning that I already have the best of husbands, my Heavenly Husband, and all of this happened for one reason—which was to get my attention and to become His bride—that's why God allowed all this to happen to me. All I can say is that it was all worth it, and I'd go through everything again, just to have the love of my Bridegroom.
What were the most difficult times that God helped you through, Penelope?
Probably the worst time was when I was on vacation with my children. We went to visit our relatives in another state, and due to my husband working in the area, he had rented a house near the construction site (a construction that he was managing), so we had planned to stay there. As soon as I entered the house, I felt very bad. I immediately sensed the presence of another woman there. During our stay, I discovered everything on the home computer—my children discovered and showed me. It was a very difficult time, but today I understand that the Lord put me there, so that my husband could confess everything to me and so God could rescue him from his sin. It was my reaction to this discovery that he later said was what motivated and impressed him.
Another interesting thing that happened too, I later learned, was that he had lied to OW and said it was his parents who were staying with him, in order that he could stay with us in the house.
Penelope, what was the "turning point" of your restoration?  
As I became more and more intimate with my HH and continued to fast to rid myself of my contentiousness, continually praising (submitting praise reports), God was taking everything away from my EH. He fought with the owner of the job he was managing, so the owner fired him from the work site, which meant he could no longer pay the rent, so he decided to separate from the OW. He sent her back to her parents' house, she was young, however, her parents lived in the same city we lived in. My husband also returned to the city where we lived (where his parents live), but I assumed that he came back and was still living with her. But he made it clear that he wanted to remain separate, and he said he was sure that God would restore our marriage. He asked me to keep praying and to be patient because he had a lot to fix.
Tell us HOW it happened, Penelope. Did your husband just walk in the front door? Penelope, did you suspect, or could you tell you were close to being restored?
Even after having had this conversation with me, telling me what he wanted, I soon discovered that he had relapsed and he was involved with her again. Again he left to work in the other state where our relatives lived. Again, we went there on vacation. It was there where he made plans to take us to live there with him. It was all right for a time. There was a job for both of us, a school for our children, but soon after we got back from vacation, my children saw on Facebook that he had taken OW to live with him again. Yet, I was more than content with my HH, and at this point told Him I cared only to remain with Him, that restoration was the farthest thing from my head and heart.
In the meantime, once again the work he managed, (a very large construction company) needed to let some men go, so my EH was fired from his work. And even with everything I knew from my lessons, I confronted him a few times, because I knew that OW was there. Immediately I realized my mistake, but God needed to really shake me up, to show me how easily I could go back to being who I once was, just as my husband continued to go back to what he was. We both wanted to change, but only GOD could do it.
It was on that day that I stopped talking to my husband about our relationship, and I turned it over to God. My HH is who became everything to me. Almost at that exact moment, all the work doors closed for my husband, and he had to return home because it's where he could find work. This all happened almost a year ago. But because restoration didn't go the way I dreamed it would, with a romantic plea for forgiveness, with my husband putting the wedding ring back on his finger, I did not recognize that God had restored my marriage! How shameful to hold out the praise He deserves and the encouragement that each of you needs to hear! Forgive me.
Several times I did open this page to submit my testimony, but when I began to tell the story, I focused only on my husband's sin, how much I was suffering from everything he was doing to me. Then God would erase what I'd written, stopping me from continuing. And I would suffer for days, just reminding myself of the situation, all because I began focusing again on my husband's sin and forgetting my own.
Thankfully, I am very different today about how I feel about my restoration journey. Today I can only see how much my Lord, my God, my HH and my Love has transformed me and how much more I need to improve in order for Him to use me as I wish to be used—using me to rebuild the home I tore down and in order to be used in ministry to help other women.
My husband did not have the deep reconciliation talk, as I would have liked, and yet God did something so like Him. We were at a church program, and the topic was forgiveness. Husbands were directed to ask for forgiveness from their wives. He was on the other side of the room from me at that moment, so I did not even expect him to come to me, but to my surprise, he took the microphone and apologized to me, then he walked over and hugged me and kissed me. From that moment, I knew how God had restored my marriage and had done so close to a year ago.
There was no conversation or other words said, but I know how much courage that took and how much it cost him to ask for forgiveness—not just to me privately but in front of all those other couples. Above all, I could see just how sincere he was.
Since coming home, he's slowly becoming closer to me in every sense, as long as I remain faithful and intimate with my first Love. When I finally put into practice what I'd learned from your courses—that I should not seduce him or persecute him and I should let him go completely—that is when he began to seek intimacy with me.
At first, soon after he returned, he would not tell me where he was going; he would just leave, and often he would disappear all day. But that has been diminishing, the more I got excited about having that time to be alone with my true Love. Again, the more I am falling deeper in love with my HH, the more I begin to notice small displays of affection, such as buying little things he knows I like and sleeping with his arms around me (when, before, he slept with his arms folded and his back to me). This always occurs when I turn my focus to Him and leave my marriage restoration to God, focusing on my HH.
We've also gone out on many family outings, which to others may seem small, but which are, in fact, great walls of hate that the Lord, my Husband, has brought down. I know that in due time my EH will say that he loves me, but God is probably waiting for me to be truly in love with His Son. I struggle with keeping Him as my Husband, now that my EH is around.
One last thing, because it was always shrouded in my husband leaving the area for work, he was never seen as leaving me. So no one but our pastor, not even our children, know what actually happened to us. I praise my Beloved for giving me the insight to keep this secret through RMI and her teachings (and even prior to that God using my shame to keep me from telling everyone). I confess that it was all due to my being embarrassed, but I must break free from this, so I am able to share my faults, in order to help other women see the downfall that awaits them if they follow the same path of contentiousness that I took (and can easily fall into again).
God, in His mercy, asked me to go through so much, in order to learn that all that matters is to be with my true Husband, my Beloved, my Heavenly Husband, which is the message I want to bring to each and every woman. He's everything I want, everything I need and everything I live for. Anything short of that is to forgo living an abundant life.
Would you recommend any of our resources in particular that helped you, Penelope?
Reading and rereading and sharing the book How God Can and Will Restore Your Marriage, reading the Daily Encouragement and the free Devotionals were essential in me continuing on my Restoration Journey. In addition, the courses have also played a very important part of my transformation, allowing me to journal, and it was while reading Finding the Abundant Life when I gained intimacy with my Beloved.
The journal also serves as a way for me to write to other brides, helping me with the foundation of my own ministry that I believe He calls us all to do. Thanks to the love of my Beloved, I am no longer the same person! I also wish I'd studied A Wise Woman sooner, so I was better prepared for my husband's unexpected return.
Would you be interested in helping encourage other women, Penelope?
I will always be willing to answer the call of my Lord, my Beloved.
Either way, Penelope, what kind of encouragement would you like to leave women with, in conclusion?
My dear brides, we have a true God who restores; it's not up to us to do. He cannot fail; leave it to Him. And remember, it happens in His timing, and most often it's you He's waiting for. To receive the promises of God fulfilled in your life, He's waiting for you to be transformed, for you to be faithful to your HH. God can change the circumstances of your EH's life in an instant, as He repeatedly did in my journey. And each time it happened, once I was faithful to my Beloved, each time it coincided exactly at those moments. Do not fight God's ways. Surrender, and let Him do whatever it takes to bring you to your HH.
Seek your Husband with all your heart, and stop chasing after your earthly husband. You cannot change anything; you've seen that truth in your own life and in all the many testimonies you've read and have longed will happen to you. Only God can and will restore your marriage and turn your husband's heart back to you, once your heart is faithful to Him. Remember, you cannot change yourself or your husband. The love of your HH will change and transform you, so give your life into the hands of this wonderful, loving Man, and embrace the best Husband a woman can have. He will take care of you, your earthly husband and your children.