This PR has been overdue and i am ashamed to my beloved HH for not giving Him the praise and honor He deserves but instead, whine, complain, fret and fear. I am ungrateful and yet He forgave me.
I had given birth to a healthy baby boy and prior to that my EH had asked me to come home and the Lord put in his heart that it was better for me to stay with him than to go back to where i was previously staying.
The delivery went well because i know the Lord, my Love, had guided me and with the prayers from this ministry, i was able to give birth normally without complications. Then a crisis had hit upon my son, but By His grace, it all went well and he was able to come home after staying for 2 days in the hospital. PTL. After that, my EH had brought me to my PIL's home to stay while our home, which i will soon move to, is still under construction and i know that the delays and my early delivery (37.5 weeks) is all part of His wonderful plan for me because it is what lead my relationship with my in-laws to be restored! My parents relationship seemed much better too as they talked about working together to give me the support i needed. My dad, who never talked about his feelings, frequently calls me to check on me and even offered to let me stay with him and his family. This is one of my petitions before my Love to heal their relationship even though they are separated, because there used to be a hate wall around them and this crisis had brought healing and them together for good.
Lastly, i haven't praised the Lord my Love for bringing home.I was lead to read "Are you ready for restoration?" Prior to this, i was having a really hard time and i asked my Love often to deliver me from the pain that i feel. I kept on whining, complaining and crying out to Him for it was better off for me when i was still alone but never fully realizing this was what i had prayed for, for me to be able to return home.
Now having a renewed mind, i understand that the enemy will try to steal what i have by making sure i surrender when the Lord already gave me my victory. The courses and books were right, the time we had away from our EH was the time that the Lord uses to prepare us for what is coming ahead, and it is never easy. It's harder than before when you first started. And that makes you think you no longer want it, but if you walk closely with the Him, He will make His will clear to you that you will want to endure every second of it just to be able to please Him.
Yes, i can see that i am, nor is my marriage, restored the way i wanted to be! Yes, my EH is still connected to the OW. Yes, it is very difficult the more i see him and the more i see how strong the hold the enemy has on him. It's very painful to go through the tests that are given to me but thankfully, my Love didn't let me fall back to the way i used to be. Yes, I don't get to see my EH often and he chooses to stay away from me and my son but, i see that the Lord is somehow turning his heart, especially to my son. I now give everything to Him, the enemy knows my sore points and will try to steal my peace but i made a shout of victory that the Lord, my Love, has delivered me from the chords of sin and fear that were binding me. Now i can rest, fully knowing that He will finish what He had started while i lie safely in His loving arms and will try to seize every moment i have with Him even more than before.
Jeremiah 29:11-14 NIV "'For I know the plans I have for you,' declares the Lord, 'plans to prosper you and not to harm you, plans to give you hope and a future. Then you will call on me and come and pray to me, and I will listen to you. You will seek me and find me when you seek me with all your heart.I will be found by you,' declares the Lord, 'and will bring you back from captivity.I will gather you from all the nations and places where I have banished you,' declares the Lord, "and will bring you back to the place from which I carried you into exile.'"
Revelations 21:4-6 NIV
He will wipe every tear from their eyes. There will be no more death or mourning or crying or pain, for the old order of things has passed away." He who was seated on the throne said, "I am making everything new!" Then he said, "Write this down, for these words are trustworthy and true."He said to me: "It is done. I am the Alpha and the Omega, the Beginning and the End. To the thirsty I will give water without cost from the spring of the water of life.
~ Cherie in Manila
New Tagalog Translator
New Google Translator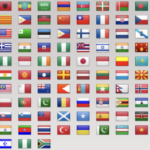 Dear brides, have you noticed the Translate option on our new sites and blogs? None of us have anything in ourselves to help other women hurting, but we have been blessed and entrusted with life-changing spiritual wisdom to daily encouragement to others! Now, by simply opening your phone, showing them the EncouragingWomen blog you read using your app, YOU can easily minister to anyone translated into any language.  Here's how to create 3 Encourager apps for your phone!