Dear Brides, since my divorce, I have moved with my children in a small apartment with a kitchen, living room and a bedroom. This has been a challenge because at first, I slept with my two sons (then 3 and 5) together in a bedroom. My younger son has cerebral palsy, and these children tend to sleep poorly at night. But the Lord showed me, that my younger son would sleep better on his own when he would not feel me near him. So I found his old crib and put it in our living room. It worked for a while.
But since going to work, I needed to wake up very early to get ready. And my older son, who was sleeping with me, would wake up at the same time. And he did not get enough sleep. So we needed to change something. Since I cannot get a bigger apartment right now (an extra room will be very welcome in the future, but it will be in His timing 🙂 ), we had to improvise. And the Lord showed me how.
First, I rearranged the whole living room. I put away the crib. And I tried to see if my two sons could be sleeping in the same room together, while I would sleep in the living room. And it worked quite well. Afterward, I decided to improve our sleeping situation. Since my apartment is small, and I wanted to save space, I considered buying a loft bed at IKEA and putting a mattress under for my younger son to sleep on. But the trip at IKEA was an adventure. I had already purchased the bed, but then I realized it would not fit in my car. So I returned to the shop, considering to have it shipped to my place.
For some reason, it took ages for the only customer in front of me to be dealt with. And while waiting, I looked at the leaflets, and realized the shipment would cost nearly as much as the bed itself!! So I returned the bed and got my money back. I started then searching on the internet, and I found something that would suit our needs: a set of bunk beds, with an extra sleeping space that can be rolled under, plus extra storage. Extra storage is a magic word for me. Anyone living in a small apartment can relate :). I felt it was the right solution for us. So I ordered it. After two months, I received a mail saying they would deliver the beds on a very special Sunday.
Actually, it was the Sunday I got the visit from very special people, Tara, and Sara. After SG I answered and asked them to ship the beds, rather than deliver them. This Wednesday the shipping company called me, my delivery is ready. Actually, one of the packages was missing. But I trust the Lord and signed the documents. Then I had a problem concerning how to mount the beds. I could not do it on my own, and the person, who had offered to help could not come until the next week. But my sweet Jesus did not let me down. He showed me some sweet neighbours willing to help, and it worked perfectly!! The next day, the missing package came, and I had some very nice young men and women help me mount the bunk beds together. We were short of time, but it worked perfectly. And tonight my sons enjoyed their first night in their newly designed room!!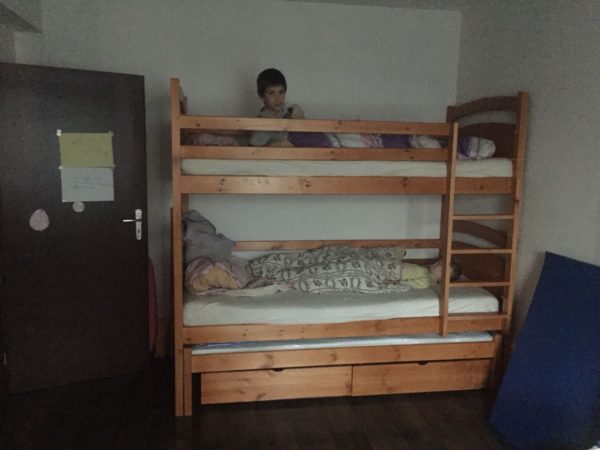 After all these adventures, I checked some reviews on the internet concerning this company I had ordered from. We don't need to go into details, I just felt I should check. And actually, nearly all the reviews were terrible!!! I don´t know, if I would have ordered the beds, had I read these reviews earlier…But the Lord has protected me, and I did not have any major difficulty with this company. I received the product I had ordered, and without a too big waiting time.
Is He not awesome? He knew these beds were perfect for us, so He arranged it all so that we could receive it at His appointed time, and in His chosen way…
It is just so like Him, and I love Him because He takes care of my little family. And at the same time, He gives me the opportunity to praise Him and show His doing in our life 🙂 Alleluia 🙂
"Many are the plans in a person's heart, but it is the Lord's purpose that prevails." Proverbs 19:21 NIV
"Give praise to the Lord, proclaim his name;
make known among the nations what he has done.
Sing to him, sing praise to him;
tell of all his wonderful acts.
Glory in his holy name;
let the hearts of those who seek the Lord rejoice.
Look to the Lord and his strength;
seek his face always.
Remember the wonders he has done,
his miracles, and the judgments he pronounced,
you his servants, the descendants of Israel,
his chosen ones, the children of Jacob.
He is the Lord our God;
his judgments are in all the earth."

1 Chronicles 16:8-13 NIV
Aimée is one of our #LALTour Brides Sara and Tara met in Slovakia and traveled to Vienna, Austria. See the pictures that were posted on Instagram