♕Today's Promise: "When I found Him whom my soul loves; I held on to Him and would not let Him go." Song of Solomon 3:4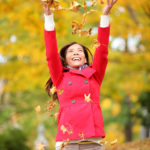 Manon, how did your Restoration Journey actually begin?
It all started when I discovered my EH's (earthly husband) infidelity just after being married for almost 4 years. And rather than just ending things, I even tried to continue with our marriage. Until, one day, soon after we moved into our new home believing we were both very happy when he simply told me that he didn't love me anymore, that he didn't feel anything for me at all and he wanted a separation. The entire time he cried a lot, said that he did not know how this happened or why, and that he had already thought about disappearing just to be free of me. He told me because of what he was doing (but didn't say exactly what), that he couldn't do it anymore. Immediately I panicked, I didn't believe it would get to this point.
How did God change your situation, Manon, as you sought Him wholeheartedly? 
At first I was desperate, I tried to stay at my job but I couldn't. I spent the whole day crying and praying I'd wander aimlessly on the streets of the city looking for a church so I could go to mass. I spent all my money on buses, on lighting candles at church, on Christian books that said something, anything about marriage and other things that I'd hope "could" help me. I didn't even feel what I was saying anymore while praying, my prayers were already automatic like a zombie. I lost 35 lbs,15kg, in just 2 months. This was actually a good thing because I was overweight and it was something that bothered me and also upset my EH (earthly husband). 
The entire time I trusted God. I have always trusted God a lot, even though I didn't know Him personally as I do today. But I knew that He was the One who could save my marriage. I accepted living in the desert and stayed with my Lord. I never looked for other doctrines, nor did I speak much with other people about my situation. Well, that's not entirely true I guess.
Early on, I went looking for a psychologist, but nothing she said touched my heart or gave me any peace at all. Glory to God for that, I ended up walking out while she was saying something because I trusted only the Lord, and nothing she said rang true. Then it all changed, in a single moment during my prayer at 3 am, the Lord led me to find RMI. The next day I downloaded the book and read it in just 2 days. From the beginning, I followed "all" principles, every single one. It was not difficult for me to follow, as I was already leading a more hidden life in God, focusing on Christian principles. But it was very important to discover all my mistakes that immediately began to help me make sense of how things had gotten so bad. 
It was sad because I always thought I was the best wife, the best woman, and to discover that I was a Pharisee, contentious, an authoritarian, rebellious, a know-it-all, jealous, idolatrous (my marriage, my husband, money spent on a food obsession these were just a few of my idols) and countless other things I discovered each time I reread the book. It was painful discovering all these mistakes, and as for knowing that my marriage had been destroyed by my own hands, to discover that I was a foolish woman was both devastating and enlightening at the same time. It made me realize I wasn't a victim and my life could change and improve.
God is wonderful and is deserving of all honor, glory, praise, and worship. As I read the book, the testimonies, the Bible, and took the courses, God was forging, reshaping my character and I felt happy and at peace maybe for the first time in my life. The more I read, the more I wanted to become a woman after God's own heart. I wanted to be transformed to be a virtuous woman and have a marriage that would honor Him rather than pleasing me. I no longer wanted anything like the marriage I'd had, I wanted a new marriage founded on the Rock. God gave me the grace to be very patient, as waiting for God's appointed time it was surprisingly easy for me. Not that I didn't suffer, I suffered a lot, but I suffered drenched in His love, wanting more from God. More than everything, I longed for Him to transform my life and the life of my EH (earthly husband). To do for us what He'd done for me. I saw all of the Lord's promises being fulfilled in our lives and that delighted me every day. The God we serve is a wonderful God!!! 
What principles, from God's Word (or through our resources), Manon, did the Lord teach you during this trial? 
Presenting everything to Him, letting go, winning without words, and being humble were the principles that touched me the most. In the beginning, I was constantly tormenting my EH (earthly husband) with messages, I watched his every move but when I read about the principle of letting go, I immediately stopped everything. It was harder to let it go in my heart, but with God's grace and mercy, I did it. The turning point was Finding the Abundant Life. Having your own Lover changes everything. Even before I was restored, I already missed the moments with the Lord and already asked Him not to let me get away from Him, and if necessary, allow everything again so that I could turn to Him alone. Glory to God! As I trusted the Lord more and more every day, just gave Him everything and literally rested on Him. Everything I experienced was wonderful ...
What were the most difficult times that God helped you through, Manon?
The most difficult times were when I was contacted by the OW (other woman). I'm so grateful that the Lord gave me a love for her after reading the OW was not the enemy The Other "Victim" During my journaling, I began asking Him to help me forgive her, (this is another wonderful testimony that I need to share). It was she who gave me news of my EH's involvement with her, the second was her sharing photos of them, but it only happened twice because I let go of social media Fasting Facebook so there was no way of her finding me. The other difficult times were when my EH started coming home and we had intimacy and he'd just up and leave right after. I felt used, despite the affection he had for me during our time together. I even asked God not to allow him to come over anymore, but God needed that to happen. So instead, I doubled up on my Abundant Life courses and that healed my heart! All Glory goes to Him! I was happy when he got up and left because I could be with my Lover who filled my heart.
Manon, what was the "turning point" of your restoration?  
My EH started coming home a few times due to the difficulties he was going through (financially, and he was forced to let go of his apartment and live at his parents' house). Because he was depressed (even though it was a hit to his freedom and at the same time he felt good there) but he said, he felt the calmest and at peace at home with me. He always came and went without me saying anything. I came to the point when I relished when he left so I could be alone with my Beloved HH (Heavenly Husband). I was very worried that he was so clearly depressed and doing lots of nonsense, but as I let go, I just held on even more to my HH and gave myself wholly to Him.
Tell us HOW it happened, Manon? Did your husband just walk in the front door? Manon, did you suspect or could you tell you were close to being restored? 
No, I didn't imagine it was so close. It happened quite unexpectedly. I was staying in the city to participate in a woman's retreat. I'd set up the retreat for a group of women who were studying A Wise Woman and he called me asking what I was doing. I said I was with some friends staying in the city, and he said he wanted to meet me for dinner. I didn't want to just abandon my retreat, as I was the one who coordinated it, but after speaking to my Beloved HH, I sensed I needed to share it as a praise report with my group who said, GO. We met for dinner and it seemed he wanted to ask me something or tell me something. Later I found out he thought my "friends" was another man. He said he could tell I was "in love" so he didn't want to humiliate himself by asking to come home.
The day he came back home and moved his things in was actually the day of our wedding anniversary but I just didn't remember it was until a week later! I was amazed at God's appointed time. On his second day home, at breakfast, is when he asked what I thought about trying again. Could I forgive him? Could I become un-entangled with the man he said I knew I was involved with! I had to laugh, it was wonderful!!! My HH gave me the opportunity to share who I was "involved" with. I told him, No, I wasn't able to let go of my Lover when his face fell and I thought he would cry! Then I said I'd fallen head over heels in love with the Lord, and my transformation happened because of Him.
"When I found him whom my soul loves; I held on to him and would not let him go." Song of Solomon 3:4
So I told him that to continue to be transformed I needed ample time to be with Him. He agreed. One day later, while crying, he told me that he loved me and that the love he felt was much greater than what he felt at any time in our lives! My God, the Lord did wonders for me, it was much more than I thought he'd ever say.
We've been back together for 8 months now. Our marriage was restored after 2 ½ years of living apart and each day was so worth every single thing I went through! Thank You, Lord, you are my everything!!!
Would you recommend any of our resources in particular that helped you, Manon?
Certainly, everything you offer beginning with the book How God Can and Will Restore Your Marriage which is essential. The Word of God is indispensable and all your courses, your daily encourager and the book A Wise Woman were certainly gifts from God, given to me through Erin and RMI. Thank you for changing my life forever ...
I thank God for the life of Erin and all of the people at RMI ministry. I ask God to pour out unmeasured blessings on each of you and your families and on all who come to find hope from this ministry.
Would you be interested in helping encourage other women, Manon? 
Yes for sure! As I have already mentioned, I have a group of Wise Women who study the book and share praise. We meet weekly and try to get away for a retreat every few months. I asked God early on to use me to bring hope to other women, to heal families and purchased 2 Wise Woman paperback books and just waited. I asked one woman and then she asked a friend and the group was formed and just continued to grow from there.
Either way, Manon, what kind of encouragement would you like to leave women with, in conclusion?
Beloved, trust totally in God and never take your eyes off Him, however difficult it may be. He is the God of the impossible, the God who keeps all His promises as He kept each of mine. Let Him change your life. Serve Him with love, let Him carry the cross for your marriage, and let Him carry you. Never, never give up believing for restoration, do not give your husband's soul to the enemy, be sure you let God battle for him, for your marriage, for your children, for you. Live in obedience and cry out to God for transformation, for without it, everything will be as before.
Find more encouragement and overcome the hurdle of #Letting Go, #Contentious Woman and #WWW by clicking on the #TAG linked to Restored Marriage Testimonies.
Filed under hashtags#: contentious, EH, facebook, FAL, fasting, HH, letting go, OW, RMT
Want even MORE Restored Marriage Testimonies to study and learn the linked principles to encourage you?
Read MORE Using the Translate >> Portuguese RMTs and Spanish RMTs
There's a lot MORE to read in By the Word of Their Testimony Full Series Packet: 9 eBooks or by purchasing them in paperback By the Word of Their Testimony Full Series COMBO Packet: Paperback & eBooks.
IS YOUR Marriage RESTORED? If you or your husband has returned home, submit your testimony so we can begin to encourage you to continue your Restoration Journey.