♕ Today's Promise: "Trust in the Lord with all your heart and lean not on your own understanding; in all your ways submit to Him, and He will make your paths straight" Proverbs 3:5-6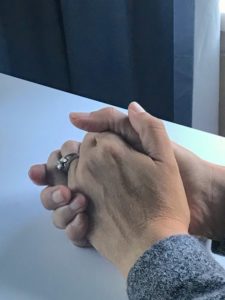 Myra, how did your Restoration Journey actually begin?
My journey began when I found out that my husband was having an affair, and I mistakenly thought that once I uncovered his sin, that he would repent and ask my forgiveness. That is not what happened, what actually happened was that it became worse - because now I knew and he wanted to stay with her and it became an open marriage. He did try initially, but that was for a short while, and then he would leave in the middle of the night and return in the morning - and it tore my heart out each time. We had cameras in the garage and around the house for security and I would see his car gone or pulling out, going to her house, and it ripped my heart open and I would cry and be in such grief that I could not eat or think straight. I would check the cameras all night until his return at about 5 am, and then start the day. He would get some rest and start a late workday with some hours of sleep. It was during this time that I found RMI, and he helped me so much! To hear that Erin had been where I was, in the same pain, with children - and it inspired me - to follow her advice and to most of all PRAY!
How did God change your situation, Myra, as you sought Him wholeheartedly? 
God changed me so deeply! I felt like He was watching over me, that he was helping me to transform and become a better person. The experience was so awful and painful, but through this I have become closer to Him and understand so much more than I thought I did before. I was a pharisee, but through fire, I was able to burn off the cords that bound me and now I was free to pray with a joyous heart!
What principles, from God's Word (or through our resources), Myra, did the Lord teach you during this trial? 
So many principles! Thank you so much, Erin!
The chapter on Contentious Woman was so inspired and opened my eyes to myself and how difficult a wife I had been. The "Kindness on Her Tongue" helped give me the principles I needed to be a better wife and person. Won without a Word, gave me hope, to know I did not have to DO anything, just follow Him. And finally, a Gentle and Quiet Spirit gave me direction on how to move forward - what to work towards for myself.
What were the most difficult times that God helped you through, Myra?
God helped me most when it was time for my husband to go, for me to let go and pass my earthly husband to Him. It was a very hard time for me. I showed my support and faith by helping my earthly husband put together what he needed to move out, i.e. pots/pans/towels/sheets. I turned it all over to God and found peace.
Myra, what was the "turning point" of your restoration?  
It was when I knew that I could let go - and that God would take care of me and that He was my Heavenly Husband and that He was all I needed. That I could continue without my earthly husband and find my happiness and support with my Heavenly Husband!
Tell us HOW it happened, Myra? Did your husband just walk in the front door? Myra, did you suspect or could you tell you were close to being restored? 
The day of moving out, when I had completely let go, when I let him make the choice (before I had always talked him out of it) - he had his car packed and movers scheduled and the apartment rented. And he did not leave! He texted me and said he would go for a drive and he came back to me and wanted to stay!
During his drive, I prayed and prayed, prayed for peace and for His will to be done. And he texted me that he would NOT be leaving! Thank you, dear Lord!
Did you suspect or could you tell you were close to being restored? 
I did suspect something because he had said he would leave 2 times before - and I had been crazy with anxiousness and would talk to him and reason with him.
But this time, he was serious and went to look for apartments and I was at peace! I could not understand it - I was expecting the anxiousness, the crying, the pleading - BUT - I was overcome with a peace I had never felt before. I was able to pray without anxiousness - and I actually was able to sleep the nights before I knew he was going to leave. I believed that God was comforting me, and filling me with peace for when my earthly husband would walk out the door.
Would you recommend any of our resources in particular that helped you, Myra?
Of course - How God Can and WILL restore your marriage!! All of the website, all the emails - such a blessing to women that are in this predicament. Thank you, Erin! I send you warm thoughts and blessings from Bellevue, WA. You are a blessed woman - so much thanks!
Myra, do you have favorite Bible verses that you would like to pass on to women reading your testimonies? Promises that He gave you, Myra?
"Trust in the Lord with all your heart and lean not on your own understanding; in all your ways submit to him, and he will make your paths straight." Proverbs 3:5-6
"Never will I leave you; never will I forsake you." Hebrews 13:5
"Create in me a pure heart, O God, and renew a steadfast spirit within me." Psalm 51:10
"Love always protects, always trusts, always hopes, always perseveres. Love never fails. But where there are prophecies, they will cease; where there are tongues, they will be stilled; where there is knowledge, it will pass away." 1 Corinthians 13:7-8
"Let your eyes look directly ahead and let your gaze be fixed straight in front of you." Proverbs 4:25
"And my God will supply all your needs according to His riches in glory in Christ Jesus." Philippians 4:19
"He has brought down rulers from their thrones, And has exalted those who were humble." Luke 1:52
"Those who sow in tears shall reap with joyful shouting." Psalm 126:5
"Rejoice in the Lord always; again I will say, rejoice!" Philippians 4:4
"Wait for the Lord; be strong and let your heart take courage; Yes, wait for the Lord." Psalm 27:14
Would you be interested in helping encourage other women, Myra? 
Yes
Either way, Myra, what kind of encouragement would you like to leave women with, in conclusion?
Believe!
Believe that the Lord cares for you, that He sees you in your room, He sees your tears and your anguish. He sees the grief that takes over you night and day. Have faith that He is working, through your husband, to make you a better person. Be humble. Be contrite and let the Lord work thru you. Believe that you will reap joy with your husband when the time is right.
Find more encouragement and overcome the hurdle of #Gentle & Quiet Spirit, #Contentious Woman, #Letting Go and #WWW "won without a word"   by clicking on the #TAG linked to Restored Marriage Testimonies.
Filed underhastags#: contentious, gentle & quiet, letting go, RMT, www