♕Today's Promise: "So that He might sanctify her, having cleansed her by the washing of water with the Word." Ephesians 5:26.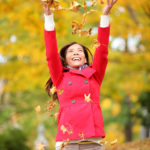 Sophia, how did your Restoration Journey actually begin?
Well, I don't exactly know how it started. But I remember very well that a few months ago I was in a situation that was "very difficult and impossible" in the eyes of the world. I had already given up everything since we weren't together anymore, so when we parted, even though I was still in love I thought "there is no reason why I should be eaten up with remorse because of this, I am young and I will find another husband who is even better." So I remained steadfast for a few months with these ideas, but inside it just didn't feel quite right. Looking back, God had already prepared everything and it began to unfold.
A new internship opportunity arose that I heard was being offered in another department. I was currently working inside the factory and did not have time to go online because at home I am without internet. But when I changed departments, I started to have more time to go on the internet during my breaks. I often researched things, including the singles pages looking for someone new. Then one day I found the book How God can and Will restore your marriage. I downloaded the book and sent it to my phone and every day I read it. But I didn't know there was an official webpage, so in another research, I found your site.
When I told my story in the questionnaire, a few days later the team replied saying "nothing is impossible" and I sat there amazed! Could this be true? I thought why not try, so I started doing the first course. I could sense that God was always there, with me, guiding me just like you said. And I took the principles from the book to heart and applied each to my life.
How did God change your situation, Sophia, as you sought Him wholeheartedly? 
God shook up many things in me. First, He made me clean! I always felt dirty and one day that was particularly horrible for me, I found the page Crisis Corner and then felt Him lead me to go back to reread about my Divine Appointment again on Hope At Last. There I read something I'd skipped over the first time, "Are you looking for a 'peace' that surpasses ALL understanding?" and I said, "Yes!" I kept reading and when I read the verse, "Do not marvel that I said to you, 'You must be born again.' Jesus just before that answered and said to him, "Truly, truly, I say to you, unless one is born again, he cannot see the kingdom of God" —John 3:7 It finally made sense to me. I cannot explain how I felt!!
The way I always thought about things, and the limitation that I had about our God, I only knew Him superficially. God transformed me in an instant! I felt clean, alive, free. I wrote to your ministry and they suggested finding Him as my First Love. So I started your Abundant Life courses. I also started to read the Bible more and pray more, to seek Him as first place in my life. He also led me to begin fasting, which helped me gain that gentle and quiet spirit that I never understood before. It was not easy, but I started to put my HH in the forefront of my mind and I was willing to wait for the rest of His plan to unfold.
What principles, from God's Word (or through our resources), Sophia, did the Lord teach you during this trial? 
One of the principles is obedience to God and letting go. God taught me that I can only change and transform my life if I obey Him, and to let go of any and every situation that worries me. GOD showed me that I don't need to create any circumstances for Him to act. I simply need to ask Him to do it and He does. Sometimes I have to wait, but He is always faithful. I learned to be meek, quiet, and to forgive and love my neighbor, which meant to me everyone in my life, including strangers.
What were the most difficult times that God helped you through, Sophia?
The most difficult times were at the beginning of the journey when I had to understand God's plans for my life, letting my husband go, giving him no sign of my desire for him, and having a ready answer to the questions that everyone asked, "Are you dating anyone new?" Because as He became first, I looked so happy and everyone thought I was with someone new. I began telling everyone, "Well, yes, I have met someone new" and would leave it at that. Only God knows what I went through to get to that place. Sometimes while I rested in the arms of the Most High my EH would call just to say hello. Sometimes he'd come over, but it was amazing that it always happened when I was with my HH and feeling content. Sometimes he stayed home for days without returning to the OW, and then just disappeared without a word. I didn't know what was going on, so I learned not to be too anxious and instead enjoy the time he was gone to spend time with my Beloved and relish in my new life with Him.
Sophia, what was the "turning point" of your restoration?  
The turning point was when I just looked at my Heavenly Husband, prayed more and fasted and sang love songs just to calm my heart and come to a place in my journey where everything was a paradise! When I stopped worrying and was happy about having to wait, and when I was 100% sure I obeyed God. When I didn't want the restoration anymore, I just prayed that the will of God would be done. When I learned to be gentle and quiet, not only when I talked to my EH but with everyone around me. When I learned to respect others, to forgive and love the people around me, and to value what others did for me. GOD began to teach me to be someone different, more humble, less resentful.
Tell us HOW it happened, Sophia? Did your husband just walk in the front door? Sophia, did you suspect or could you tell you were close to being restored? 
I never imagined that my restoration would be so fast. It was only 8 months that I searched fervently and everything changed in my life. It started by my EH sending me msg very often, and then calling me to say that everything was not ok. He stated several times how much better it had been with me, which was exactly the verse I prayed.
"He will pursue his lovers, but he will not overtake them; and he will seek them, but will not find them. Then he will say, 'I will go back to my first love (and I'd put my name in) for it was better for me then than now!'" Hosea 2:7
What's amazing is that because He changed me and I am now quiet and meek, I did not say anything. Instead, I just smiled and thanked God for how faithful He is. So he started to ask me out, to visit his friends with him, then a short time later, when we were talking together, he told me about a house he'd bought. While I waited for God to finish what He began, I gave myself completely to God, I threw myself at the heart of my HH and prayed that after 21 days of fasting that I would hear the good news. 
God acted on my behalf and we moved into our new home before my fast ended. God changed my life, giving back hope. I, who entered here at RMI and thought restoration was impossible because I was dirty before God, and I failed a lot, did the impossible for me. God is good and He searches the hearts of those who seek Him. Thank You, my Love!
Would you recommend any of our resources in particular that helped you, Sophia?
The first book I recommend to everyone is how God can and will restore your marriage, then the courses, and a wise woman. Applying each principle in each of your books and courses are what changed me. What helped me the most was to always obey, not to seek blessings for ourselves, but first to seek a relationship with God and finding our HH as our first love from your Abundant Life courses. This is the greatest blessing... far above being restored. Having that relationship with your Beloved.
Would you be interested in helping encourage other women, Sophia? 
I am interested, yes, always.
Either way, Sophia, what kind of encouragement would you like to leave women with, in conclusion?
I believe that in my testimony I did not tell even half of what happened to me. How can I ever explain the care that God administered to me? How He always answered me and the many battles He fought for me? First of all, read the book How God can and will restore your marriage, do not deviate from the Word and read it often to be cleansed, "so that He might sanctify her, having cleansed her by the washing of water with the Word" Ephesians 5:26.
Pray without ceasing, let go of your relationship, do not create any circumstances for God to act. Because the God we serve He has the power, so never doubt and no matter how long He takes to answer, remember He is always in control. I could see it all when I was "in the desert " and as crazy as it sounds, I still "miss it" because in the desert God teaches us, molds us, and brings us closer to Him and you can feel Him so close to you. 
Start to be more dependent on Him, appreciate small details. Pray with all humility, exposing all the problems and difficulties in detail to Him and speak to no one else. Do not be ashamed to speak to God each time you have failed and where you have failed, always look to Him. And to finish, I'll leave these verses: "The plans of the heart belong to man, but the answer of the tongue is from the Lord." Proverbs 16:1
"…and if My people who are called by My name humble themselves and pray, and seek My face and turn from their wicked ways, then I will hear from heaven, will forgive their sin, and will heal their land." 2 Chronicles 7:14
Find more encouragement and overcome the hurdle of #Letting Go, #Contentious Woman, #WWW "won without a word" and #Gentle & Quiet Spirit by clicking on the #TAG linked to Restored Marriage Testimonies.
Filed under hashtags#: contentious, gentle & quiet, letting go, RMT, www
Want even MORE Restored Marriage Testimonies to study and learn the linked principles to encourage you?
Read MORE Using the Translate >> Portuguese RMTs and Spanish RMTs
There's a lot MORE to read in By the Word of Their Testimony Full Series Packet: 7 eBooks or by purchasing them in paperback By the Word of Their Testimony Full Series COMBO Packet: Paperback & eBooks.
IS YOUR Marriage RESTORED? If you or your husband has returned home, submit your testimony so we can begin to encourage you to continue your Restoration Journey.