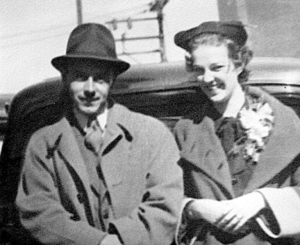 My Parent's Bill and Grace
Today I am excited to share the full testimony of my parents' marriage being restored—which I didn't realize until years later—laid the foundation for my own marriage being restored. The Lord led me to use one of our Marriage Restoration forms for my parents' restoration, filling it out just as anyone would who be submitting it for another person.
It is my hope and deepest desire that God will use this very special testimony to spark the hope in many of you, so we will soon witness and hear of more and more families being restored—grandparents together again for the sake of their grown children and grandchildren.
Please share this testimony and our new book Trust God to Restore Your Parents' Marriage with anyone and everyone that the Lord lays on your heart.
~ Erin
Erin, please let our readers know what your family's life was like when you first sought God to restore your parents' marriage so our readers understand just what a miracle this restoration is.
To be honest, I never really heard my parents fighting. Both my parents were brought up in wealthy families, so in high society, it was customary to keep your composure. My parents would always discuss things calmly, and if something became difficult, one or both would just walk away to gather their thoughts. So this is the way I was brought up.
Though they never fought, I never remember my parents being really close either, you know, the "lovey-dovey" kind of couple. Even though I didn't really see much affection between them, because they always spoke kindly to each other and never spoke against the other, it was assumed (by me) that they did love each other. Maybe not "in love" but they loved each other. They often took short honeymoons away, so for most of my growing up, they were a happy couple raising a big family.
As I said, I don't remember hearing my parents ever argue until right before they separated. And even then, it was just my mother who raised her voice. I was just out of high school when my mom found a position running a tiny seaside beach resort, which years later I realized, she wanted as a way to bless my father who loved to fish. His insistence that he would not move, I realize now, hurt my mother so much that she went ahead and took the position—bringing my younger sister to live with her. When my mom left, my dad was totally at a loss. He had always been busy in his career in television and movies as a cameraman while my mom took care of the house and everything else. But I'm getting ahead of myself.
The fateful day when my parents separated began when my mother found the perfect opportunity, she thought. Running a tiny seaside establishment was, to her, a dream, but my father refused to be onboard. It took me years to understand that she was horribly hurt because she'd taken the position for my father—so he could walk to the shore and go fishing—something he loved. Like all women, she did all she could to manipulate everything to get her way, ending with an ultimatum. She was going whether he would go or not. I'm sure, like all married couples, each thought the other would come around, but neither did.
My mother moved, taking my youngest sister, and my father was left dumbfounded. Seeing my dad at such a loss: where to find an apartment, moving and turning on all the utilities, etc. etc. at his age, retired, was pitiful. Since we had always been close, when he shared his dilemma and loss with me, I offered to move in with him for exactly one year. I was in college and I'd been living on my own, but I agreed, for a year to share an apartment. During this one year, he learned to grocery shop and do all the other things he had always left to my mom.
Because I was living with my dad, I didn't see my mom or my younger sister very often. We didn't do the "family things" we used to do and all of the holidays were horrible and strained. It was in the midst of all of this that I cried out to God to help me in my despair and my broken heart.
That year, and as each year ticked by, I couldn't help but want my parents together again. My siblings, sadly, did not agree with my desires. No one saw the ramifications of this as my parents would soon reach their later years. I also felt cheated since I hadn't yet married or started a family. I wanted my children to have their grandparents together when they went to visit them, just like my older siblings had. So I began asking the Lord, who'd I always had been close to, to show me what to do.
Erin, how did your parent's restoration actually begin?
It began slowly as I followed what He began laying on my heart. It was simply this: if either of my parents said anything that was remotely kind or favorable in any way, shape, or form about the other, I would pass it along to the other one. If there was anything negative said, I never ever repeated it to either one.
It might go something like this when speaking to my mom, "Oh, funny thing, Dad just told me about how you used to go to the movies when you were first married. He'd sit with the baby and for just 10¢ you'd walk down to see a movie. He said how much he'd been thinking about it lately." Or I'd say to my dad, "Mom mentioned how thankful she was when you…." and fill in something God reminded me. I just watched as He would remind me of more and more positive or kind things that had been said that I was able to share with the other parent. This, looking back, was laying the foundation on which He was going to build upon.
How did God change the situation as you sought Him wholeheartedly for your parent's restoration?
The biggest changes happened with my father. After agreeing to share an apartment with him for a year, he began to change. One reason I hesitated living with my dad was due to my father's smoking, so when we were out looking for an apartment, he'd told me he'd only smoke outside, never in the house. A few times I'd come home from classes and as I was walking down the garden pathway, I would see only my father's arm outside holding his cigarette. As soon as he'd see me, he'd hop up and step outside. Yet, due to the inconvenience, coupled with the expense (because he saw for the first time how much he was paying to smoke because my mom no longer bought groceries), led him to stop smoking cold turkey. God was beginning to work, but I still had no idea at the time.
Of course, I told my mother, "Oh, by the way, did I mention Dad stopped smoking?" and though she never said anything, I saw how happy it made my mom and it got her attention.
What principles, from God's Word, Erin, did the Lord teach you during this trial?
Primarily that nothing is impossible for Him. That no matter what the desires of our heart may be, He will give us our desires—especially when it lines up with His Word. God doesn't just want us to believe Him for our own marriages. I believe He wants us to believe Him for marriages that affect us and our children.
Due to how I was raised, praise GOD, I never once spoke to my parents with any sort of insubordinate attitude. It was not my place to tell them they needed to be together or share any Bible principles with either of them. If I had, then I would have opened up all sorts of dangerous spiritual adversarial influences in an already dreadful situation.
"Behold, to obey is better than sacrifice, and to heed than the fat of rams. For rebellion is as the sin of divination, and insubordination is as iniquity and idolatry" (1 Samuel 15:22).
Nor did I go to either of them with my woes or hurts about their breakup because those tears didn't belong to anyone but my Best Friend (I didn't know He was my Husband at the time ;). "Put my tears in Thy bottle; are they not in Thy book?" (Psalms 56:8). "Those who sow in tears shall reap with joyful shouting" (Psalms 126:5).
I cried as I looked to the future. I could see as the years wore on, that my future would be totally different from what I had always thought it would be—all because my parents had separated. My older brothers and sisters were already married. They didn't understand my loss because when they were first married each of them got to come "home" for holidays and "both" their parents were excited to see their new baby or to hear about the house they had just bought.
For my younger sister and me, however, there was no "home" since our parents lived apart. And if that was not bad enough—there was always the added pressure of making sure you didn't offend one parent when you spent time with the other.
In addition, there was something new to make it all so miserable—both of my parents had a sense of dependency on me, their sixth but very available adult child, instead of where it should have been—on each other! Again, looking to the future, I could see as they aged, that I would need to be available more and more for them because they were no longer living together. I could see financially that they would have double the expenses and my mother would be forced to live at the poverty level if they didn't combine their social security and my dad's pension.
After my year's commitment was up, my father moved into a tiny little cottage. He was content, but not really happy. He was friendly with everyone and kept busy visiting the library and his friends at different shops in his small town. Unlike my dad, without my father's stability, however, my mom moved regularly, which was especially hard on my younger sister. For years my mother complained about her lack of freedom, so once separated, she was free to move about and she took full advantage of it.
And once my parents were separated, the rest of our large family began to drift even farther apart. My closest brother moved to the other side of the world, to Japan, and my older sister moved from California to Minnesota, halfway across the country. Without our "family" it sounded appealing when my sister asked me to move to live by her and her growing family. It was while living there in Minnesota that I met and married my first husband, and where my oldest son, Dallas, was born. That's when my parents' separation really hit me! I wanted "grandparents" for my children—I wanted what I had always dreamed of. My son deserved what my nieces and nephews were blessed to have had. I knew that something had to be done; but what?
Dallas was six months old when he met his grandparents for the first time. My mom met us at the airport, and later (because my parents were separated), I drove over to see my dad. I hated it all. I wanted them to be together to talk together about how beautiful and wonderful my son was just like I had heard them talk about my eleven nieces and nephews. I had been robbed.
That day I was determined to do everything that I could to see them together again for the sake of my children—their grandchildren.
What were the most difficult times that God helped you through Erin?
It had to be when I flew to California with my first son to meet his grandparents and, as I dreaded, I brought him to two different homes. It was probably then that my desires became much more intense, my yearning much deeper. I just knew God could do it, even though I was years away from reading the verse how "nothing was impossible" when I sought God for my own impossible marriage to be restored.
Yet, I do believe that my own marriage, and this ministry, was founded on my desire to see my own parents restored. Thank God a million times over that neither my mom or dad ever became involved with anyone else. I know for most of you that's not the case, nevertheless, nothing is impossible as we all know and have witnessed through the many Restored Marriage Testimonies!
Erin, what was the "turning point" of your parents' restoration?
The turning point, not surprisingly now that I know the principle that has led to 100% of all marriages restored for our men, happened during a crisis my mother was going through. My mother got injured on her job and had begun living with us. Then she moved in next door but she was soon unable to return to work and was going to have to move. About this same time, one afternoon, I'd turned down the street at the end of our corner and saw a brand new adult living complex that had just put out the for rent sign, finished and ready for occupancy. My heart began beating wildly because I sensed, "This is it!"
1 Kings 18:44, CEV After the seventh time the servant replied, "I see a small cloud coming this way. But it's no bigger than a fist." I didn't share my excitement with anyone, because I knew this sign was no bigger than a fist and I didn't want anyone to rattle my faith in what I just believed He could do and was about to do.
Not really knowing the principle "He leads me" (Psalm 23) was in the Bible, I'd begun letting my Best Friend (my now HH) lead me more than a dozen years before this. So it was easy to sense when to mention the new apartments to my mother, who became very excited until she saw the cost on the brochure. "Oh, I could never afford that" was her reply, to which I said, "But Dad could." "Oh, he'd never go for that," she said, and I replied, "Oh, are you kidding? He'd jump at the chance." I assured her that there were two-bedroom units since my father is very much a morning person and my mother a night-owl, which lessening this step after living apart for nine years!
I don't believe that anything more was said, instead I believe I left that seed that He'd planted to be watered. Next, He led me to share everything with my father, but I know at least two weeks had passed and He was asking me to be patient. To wait.
Tell us HOW it happened Erin? Did your father just walk in and say to your mom, "Let's get back together?" Erin, did you suspect or could you tell your parents were close to being restored?
Yes, I could feel it was very close! And it happened quite suddenly. I was visiting my father and I sensed it was time to bring it up, so I told him I needed to get something from the car, and came back in with the brochure. I handed it to him, "What's this?" "It's the new apartment building around the corner from our house. I showed it to Mom and she'd love to move in there to stay living close to us. I'd love you to live closer to us too, Dad. Unfortunately, mom can't afford it so I suggested you share an apartment with her. You could afford the rent for the both of you," I said. My father replied quickly, "Oh, your mother would never agree to that" and I was able to say honestly, "But I already mentioned it and she's all for it!"
Two weeks later we moved both my parents into their brand new apartment around the corner from us! When we later moved from California to Florida a few years later, the enemy tried again to separate them, but I knew it was GOD who'd restored and the enemy would not win. My mom was quick to want to move with us, and what was a shock to everyone, my father agreed to move to Florida too—something everyone said was impossible! So we moved my parents along with us when we moved across the country. My parents stayed together until my father passed away 14 years after God restored their marriage!
Would you recommend any of our resources in particular that helped you, Erin?
If you have parents that are separated or divorce, even if either or both have remarried, I would recommend reading How God Can and Will Restore Your Marriage with your parents in mind. Also, A Wise Woman and A Wise Man to understand God's principles for each party involved. Be very sure, however, that you never share principles with either. If these books were available back when I was longing for my parents to be restored, I believe I might have shared the men's RYM with my father, because he was the one I knew was still madly in love with my mother. And if I was studying A Wise Woman, I might have asked my mother to study it with me, for my sake, not hers.
Funny thing is, this was basically the way my mother changed from being a contentious woman! Like all of us, I'm sure she had no idea how the books and media had influenced how she began acting towards my father. It was during the years that I was just writing A Wise Woman and my mother was the first to edit all my grammatical mistakes for me. One day I handed her the manila envelope to edit and when she slid it out, seeing it was "The Contentious Woman" said, "Oh, not this one again...I think I've edited it seven times!" That's when I knew what He was doing!
My mother, bless her heart, had the opportunity to put what she learned into practice. When my father was bedridden, she was able to show him a "gentle and quiet spirit"— a wife who was loving and patient. The day he passed away she was in praying with my father (who no longer was able to speak) and left to answer the door for the hospice nurse, who came back out of his room to say he'd passed away.
Would you be interested in helping encourage other women, Erin?
Yes, until the day I die. I hope that the new book I'm working on Trust God to Restore Your Parents' Marriage that I hope to have a chapter available each week for RF Members and our partners) will help many adult children.
Either way Erin, what kind of encouragement would you like to leave women with, in conclusion?
No matter if it's your parents, a sibling, a dear friend, a neighbor or a coworker. You can believe God for the impossible. Share this testimony with everyone you know who has parents who are living apart. Parents and grandparents should be living together, under one roof, giving glory to GOD!!!!!!
My parents both have since passed away: my father in June 1995 and my mother five years later in April 2000. But I can tell you that God performed a miracle and they lived the last years of their lives—TOGETHER!! My parents were together for another 14 years—59 years total! All but my youngest daughter experienced "grandparents together" (my father passed away before I told him I was expecting my seventh baby).
And remember, not only did God restore my parents' marriage for me, but He gave my mother the opportunity to be the kind of wife I knew she had always wanted to be during the last year of my father's life! I saw the contentious wife totally gone and replaced with a "gentle and quieted" spirited mother—a compassionate, patient, and loving wife to my father. There's no greater gift I could ever receive.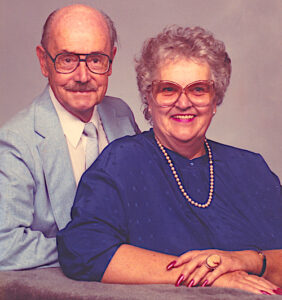 How GOD Can and Will Restore Your Parents' Marriage 
From a Daughter Who's Been There! 
By Erin Thiele 
My Parents are Restored!!!
Dear Restore Ministries International, I have been coming to your website for many years. I purchased every book you offer. My marriage was never in trouble, I came looking for hope because my mom and dad have been divorced for years but I just believed that somehow and in some way I could help them get back together. Today I am writing to say that my parents just REMARRIED last week! Hallelujah!! Praise You, Lord!!!
What should have been my parent's 50th anniversary is the day my father asked my mother to remarry him and she said YES!! It's only then that my mother confessed to my dad that she knew someday they'd be together again. My mom and I studied A Wise Woman and I have to say that even though it restored my parents, the other miracle is about the changes it made in me! You need to know that I was horribly contentious towards everyone and I never once let my husband finish a sentence before I'd correct him and set him straight. I never thought it was horrible because every one of my friends acts the same way towards their husbands, so I thought it was the way a wife was supposed to be. Then I started watching their marriages fall apart, husbands divorcing my friends and often it was my girlfriends who'd file. But I just thought it's normal. But when I experienced what my parents' divorce did to me and my brothers I just didn't want the same for my kids. So by me helping my mom (and dad) I believe my marriage and life are now built on the Rock and I no longer am tearing my house down with my own hands (or actually my mouth and bad attitude).
My mom's faith helped me to believe it would happen—even though my parents had divorced six years ago so that my dad could marry the woman he met at work. My mom believed once she read How God Can and Will Restore Your Marriage.
What's kind of sad is that my dad's second wife just recently died of Alzheimer's. I'd read this verse in my bible, "And I gave her time to repent; and she does not want to repent of her immorality. Behold, I will cast her upon a bed of sickness, and those who commit adultery with her into great tribulation, unless they repent of her deeds" (Revelations 2:21-22) when she'd been diagnosed but never thought she'd pass away and pass so quickly.
What turned my father around was the five long years he watched his second wife suffering. Having to care for her (which I believe was his "great tribulation") actually helped him to draw closer to the Lord. God's Word, his bible, finally became something meaningful to him. God is faithful! Thank You, Lord!
So you see, RMI and Erin, you saved an entire family from destruction. There are no words to express my entire family's gratitude. All I can say Thank you from the bottom of my heart!!!
~Gloria's parents in Georgia, RESTORED
These testimonies and many more are
AVAILABLE in PAPERBACK
By the Word of Their Testimony (Book 4): Take up your cross and follow Me.
By the Word of Their Testimony (Book 5): He will Give You the Desires of Your Heart.
Be sure to order your own paperback copy to mark and read how others, like you, made it through their Restoration Journey and experienced a RESTORED MARRIAGE. Read each of the dozens of testimonies to build your faith in God's ability and desire to restore YOUR marriage!
CLICK HERE to order the eBook Series that includes this and several others as PROOF.