Dear Partners and brides who tithe to your storehouse, I hope you enjoy as I share how your financial support is helping so many women in our Spanish Ministry.
Praise Reports within my Ministry
I have many women who come to RMI and say they have read our books, but even then I encourage them to do our courses that have so much more materials such as our videos, testimonies, and additional lessons. They fill out their DJ, and in doing so they are opening up their hearts and creating intimacy with Him. Here is a PR about this.
I want to thank Lota who answered my emails and encouraged me to do the lessons in the courses after having listened to the RYM book. I was struggling but trying to apply the principles on a desperate day after my husband told me that he no longer wanted to be with me. He had already decided to buy my ticket to return to my family. I was devastated and began to pray to the Lord, after reading the book, I learned to let go and agree.
In the plane I was devastated I could not stop crying and I went to your page and started doing the lesson for Chapter 2. I had already heard this chapter many times, but this time I read it and sent my DJ. It seemed that God was comforting me and directing me. The Lord gave me the verse of Isaiah 45:9 "who contends with his maker, Does the clay claim the potter? look what you do!" I felt that the Lord was correcting me, I surrendered and told Him to do His will and not mine.
When I saw my mother at the airport, I was sure I would burst out in tears, but the Lord spoke to me with another verse (Psalm 34: 5). "They were radiant. radiant are those who come to Me never covered with shame." So when I looked at my family I had a smile from ear to ear and I was radiant! Since I arrived with my family I am doing the lessons and sending my DJ and I am amazed at how the Lord is breaking me and remaking me. Oh how much I am learning .. all those who are waiting as I was to do their lessons … I assure you that you will always find something new to learn and you'll begin to live it.
I thank the Father and my Lord for all that I have learned. These days I have really learned from the Word of God and seeking Him in prayer and adoration have been beautiful. It is incredible what happens when we look for more of the Lord even when our flesh does not want to … we are full of faith, of His love and of His presence. We receive strength to continue and we begin to see things as God sees them.
The most beautiful thing that happened to me during this test is having met the Lord as my HH .. and having learned more of His Word that makes me love Him more and long for Him more. Do not be discouraged. Do not lose faith or hope. There victory in HIM … !!!
Isaiah 54:5 "because the one who made you is your Husband; his name is the almighty lord, your Redeemer is the holy one of Israel: God of the whole earth is His name."
this verse is meaningful to me because it reminds me that I do not need a husband because I already have one .. 🙂
~ Jesa in Kansas
What's New
What's new in the Spanish Ministry is we are praying for our HH to guide us on how to distribute books easily and affordably to Latin America countries. We have been successful in Mexico and Colombia, but still SG for other countries.
Here is a PR that shows how Carie came to the LORD with conditions and now has surrendered to HIm and found true Love at Last.
I have prayed asking Him to remove my marriage and my home as an idol, to help me focus on Him, and as He is ALWAYS FAITHFUL, He has answered my prayers. It came to me that if I truly loved MY BELOVED, even if He did not fulfill what He promised, I would continue to love Him.
Then it hurt me in my soul as I imagined myself being left without a daughter or husband and asked for forgiveness because I saw myself and said "LORD, you always destined the best for us and what I am living is Your will, and even so, I could not live without You. That's when I felt the work, I felt that the rope that even I held internally holding my idols began to break, even in the way I never thought.
Such was the pain I felt, that I realized that it was basically for what He would do for me, I felt for a moment betrayed, then I realized that I do not want to love Him because of what He could give me. At First, I realized that I am in love with Him for what He can give me, but now it's what He produces in me and because He is faithful in answering my prayers, and now I praise HIM, bless HIM for taking me through this fire that, believe me, it hurts more than when I felt rejected by my EH.
Thank you for teaching me UNCONDITIONAL love, agape love towards the Maker of my life, towards my HH. You teach me faithfully to look forward to the future, not because You can give me the desires of my heart but because Your will is done. YOUR WILL WILL BE DONE IN MY LIFE, and those will be the best for me.
Beloved, my Precious, forgive me for the pain I have caused You, to see what my heart has produced in front of Your question: What would happen if I do not get to restore your marriage, what will happen to us? I am ashamed of what I felt, I realized that my love was conditional, it is very human. Take me further, I want eternal life, I want to be born again in You, I want to be Your partner, You really opened my eyes to understand what it is to leave everything and follow You. You have torn down walls of my mind, living according to your law by LOVE, agape love.
'If you return, I will restore you in My presence you will be; yes you remove the precious from the vile, you will be my spokesman. Let them turn to you, but you do not turn to them "(Jer 15:19).
Beloved You can do everything, this is the love that I want to profess, everything that I feel You produce in me, come and let Your will be done, I want all my hope in You!
~ Carie in Ecuador
Thank you, my Love, for allowing me to be used by YOU and see Your mighty hand move in these women's lives.
If you feel in your heart the desire to serve Him, simply open your heart and He will guide you. Remember we can do all things through Christ who strengthens us.
THANK YOU!!
~ Lota in Puerto Rico
Restored after going THROUGH the Fire!
RMI's Spanish Español Minister
Ministry Note:
The LORD heard and answered how we can begin to help the Spanish Ministry distribute books easily and affordably to Latin American countries! We have just added the option in our Thank You notes—an option to give to help pay the shipping costs for the books "at cost."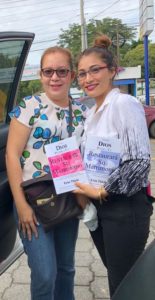 Here are two special brides who were excited to take a picture and send a thank you the moment they got the books they'd prayed for.
If you've taken any of our courses and would like to show your Thanks to Him by giving to spread hope throughout the Latin American Countries: click any of these to donate Course 1, Course 2, Course 3-4, Abundant Life.
*Important Update*
Our annual Women's Retreat in Nicaragua has been canceled. Please take a moment to read this heartbreaking announcement.
*Exciting PRAISE and MORE Encouragement*
Yvonne shared in one of our RMI Board of Directors meeting that she was reading the other 2 Encourager blogs each morning, using a translator on her phone. This led to us discovering a way to add a translator to all 3 of our Encourager blogs so any language can now read and be encouraged each morning.
Set up 2 more Encourager apps with these languages:
Spanish El Animator
Portuguese Encorajamento Diário