♕ Today's Promise: "Give and it will be given to you. They will bring good measure, pressed down, shaken together, and poured from the top into your lap; for the measure you measure will be measured to you." Luke 6:38 
~ Bernie from Slovakia
Dear Brides,
The chapter "Give" clearly shows us and explains an important principle of life, which I subconsciously knew but neglected because I thought I was giving and that I was quite generous, because I am not greedy and I am not saving too much. But God opened my eyes and through this chapter I understood that my giving is superficial and embarrassing!
I had read this chapter a long time ago, now I have returned to write in the journal what my Beloved taught me. Since I read it for the first time, I think more often about it and ask Him, where, to whom, what should I give? I think about how I feel a lack, sometimes it's a lack of joy, other times a lack of gratitude, encouragement, sometimes I feel lonely and so on. Then the best decision is to go to Him, my Dear, and spend time with Him, speak sweet words to Him and profess His love. He fills every void and heals.
Very often I felt a lack of encouragement and the need to confirm that I was on the right track. At that time, I sent a verse for encouragement to someone who came to my mind, or I wrote praise, later I started serving in RMI through proofreading of texts, translations, etc. My Heavenly Husband rewarded me because at this time, no matter the circumstances, I experience joy and immense encouragement through this community and all the brides. When I encourage, I received encouragement and confirmation through the Word of God.
When a shortage comes into my life, the depletion of some resource, adversity in any form, I will not be afraid right away and make plans to get and solve the situation. I will remember this chapter [Give] and simply seek God to guide me and tell me how to proceed. I will think that He is the one who wants to bless me, teach me, strengthen my faith. I remember that by His daily grace, I am very well and that He will take care of me in all circumstances, because He is my Husband, He is holy and faithful, Hallelujah.
Dear Brides, do not look at your situation, simply keep thinking of your Beloved, who will guide you through every obstacle and has a way out in every desperate situation. Ask for His guidance and trust His words, sit in His presence and look forward to testing your obedience. Even if you fall, He gives another chance, praise Him! It will teach us to live this principle of Giving in our lives as well. By giving nothing we lose nothing, on the contrary, apart from rewarding us, we gain much more, more intimacy and trust with the One who is worth it.
"Give and it will be given to you. They will bring good measure, pressed down, shaken together, and poured from the top into your lap; for the measure you measure will be measured to you." Luke 6:38
The first two-thirds of the verse sounds great, it sounds like a tempting invitation. But the last part sounds more like a warning to me. Why? Maybe it's because when I evaluate my giving, I see serious shortcomings. However, not in that I am reluctant to give when I have, but in giving when I have a deficiency. It's a natural reaction of my flesh, I'm trying to protect myself. Well that's exactly what I have to stop doing when I want to leave the old life because I'm a New Creation.
Follow #Bernie's Praise
Bernie is a tithing​ partner. Learn more.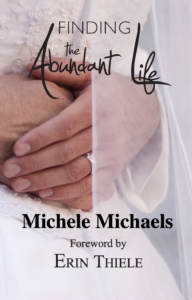 Follow our #FAL Tag to read the PRAISE from these life-changing books.
Finding The Abundant Life is available as an e-book in our bookstore!