♕ Today's Promise: "...do not forsake your mother's teaching; indeed, they are a graceful wreath to your head, and ornaments about your neck." Proverbs 1:8.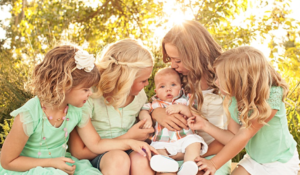 We all know children and even mothers who need to be mothered. In honor of my own mother, Grace McGovern, I want to dedicate this short reminder (or maybe it's a revelation to some of you) that whether or not you have children or you don't have your children living with you, If you ask Him for the opportunity to mother someone who needs to be mothered, I guarantee that He will open up an opportunity and show you just how much this particular "Love" (from a woman who is designed to mother) means to so many.
My mother mothered everyone! I was blessed to witness my own mother mothering everyone as well as Great Grandma Brown who was a "grandmother" to everyone!
My mother, Grace, had a car nevertheless she used to take the bus in order to wait at the bus stop and also sit next to young mothers she could sense needed to be mothered. She would make sure to touch their arm or take their hand when they would start to cry and often embrace them. She would tell them what a good mother they were (when often what she witnessed wasn't the best but she believed it would encourage them to want to be a better mother).
Please SSG (Noticed the additional S to emphasize that it's simple to seek God and ask Him?) Then, when He does lead you and you follow His lead "not leaning to your own understanding" please multiply and share your praise by submitting a praise report so that we can invest your praise into next year's Mother's Day Encourager!
---
♕ Today's Promise: "Therefore I tell you, whatever you ask for in prayer, believe that you have received it, and it will be yours." Mark 11:24
Dear Brides, What are the mountains that need to be moved in your life!! This [Moving Mountains] chapter, "Promises" was unbelievable. There is not impossible for Him, seeing where He took Michele, brings me so much encouragement for the things that He is going to do in my life.
The Lord taught me to believe in His promises, not in my circumstances. What is interesting is that I just wrote a praise report about it, and then I read this chapter, such a confirmation of what he was speaking to me.
One of the things that most encouraged me was this part: "Once you see that God is calling you to believe and imagine a mountain-moving, there are two things that you need to know: one, don't worry about what you can't do, and two, just do what you can, as He leads you!
Again, just He confirmed that I should not be anxious about the things that I cannot do, but I should take His yoke and do what He is calling me to do.
Let me share about my desire to have my driver's license. It was always a desire, but everything happened and many of the times my own fears had stopped me to do it. There are days that I had joy in setting a time to study, but then when seeing how people drive here where I live, fear would discourage me to continue doing it. But reading the chapter, I just believe that He is saying to me to not be concerned about things in the future, and just do what I can, the rest He will do, He will give me understanding and protect me when I begin to drive. Because I was thinking ahead of time, it was bringing fear to do what He gave me to do today, that is study for the test.
I don't want to try to move the mountains in my life, this will bring an unnecessary burden that He is not asking me to carry. I want to ask and do the small things first that He gave me then He will lead me to the big ones. Most of the time, thinking about the big things stops me from doing the simplest one, and I don't want to live like that anymore.
Dear Brides, believe Him and what His word says not at what your circumstances or what others will tell you. If It's difficult, don't panic, let Him take you on this amazing Journey, where He will be with you the whole time. My dear bride, don't lack anything because you have an amazing Shepherd.
"Behold, I am the LORD, the God of all flesh; is anything too difficult for Me?" Jeremiah 32:27
"Ah Lord GOD! Behold, You have made the heavens and the earth by Your great power and by Your outstretched arm! Nothing is too difficult for You!" Jeremiah 32:17
~ Sara in Turkey
RMI's Translations Director, who heads up our Translation Team
Follow #Sara
I'm a tithing​ partner. Learn more.