Today is a very special day for me as it is my wedding anniversary. My FH and I would have been married 37 years today. The number 37 also happens to be the number that the Lord has been showing me on a regular basis. When I looked up the significance of the number I was led to Luke 1:37.
This morning, instead of waking up with a feeling of dread, I woke up with nothing but praise on my lips. Thanking Him that He is my Husband now and that every day with Him is an anniversary! Telling Him that He is enough until He decides He wants to bless me with more.
Then I read this morning's devotional from Cherie in Manilla where she also says that she asked the Lord to restore her marriage before her anniversary. Well so did I. But now it does not matter to me anymore. I am content to be with alone with Him for as long as He wants. Our time together is so precious. And in a moment He can change everything. But in the meantime, I just want to soak up His love. Words cannot explain what He has done for me this last week. I found myself depressed and tired, then He just came and changed everything in an instant. My heart is soaring—I just can't get enough of Him. And I am so grateful that He has blessed me today of all days with this absolute feeling that I will finish this journey with Him by my side no matter what lies at the end of it. And His message to me today is "I am Making everything New."
Luke 1:37 NKJV "For with God nothing will be impossible."
While I was looking for a Christian movie to watch I stumbled on a website that allows free movies and series. And I found not only the movie but past and present episodes of my favourite series on Paid TV that I am not able to watch. Thank You, Lord!
Jeremiah 33:3 NKJV 'Call to Me, and I will answer you, and show you great and mighty things, which you do not know.'
~ Mercy
Afrikaans Translator
New Google Translator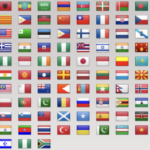 Dear brides, have you noticed the Translate option on our new sites and blogs? None of us have anything in ourselves to help other women hurting, but we have been blessed and entrusted with life-changing spiritual wisdom to daily encouragement to others! Now, by simply opening your phone, showing them the EncouragingWomen blog you read using your app, YOU can easily minister to anyone translated into any language.  Here's how to create 3 Encourager apps for your phone!